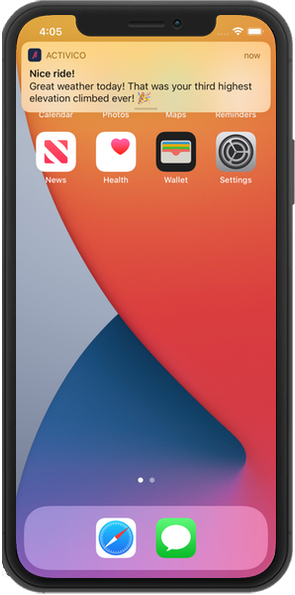 Connect With Strava
Download the app, then use the app to connect Activico to your Strava account.
Complete An Activity
Record an activity with Strava. Activico works with outdoor rides, runs, and Zwift rides.
Receive Feedback
Activico will send you an iOS notification about your activity.
ACTIVICO
No pro plan
No in-app purchases
No ads
Now go outside
We can't promise it will stay this way forever.
But we have no plans to charge or serve ads.
Features
No new accounts. No new platforms. Activico works with platforms you already use.
Targeted feedback
Get a segment PR? Rip off your longest run in three months? We'll let you know in a notification.
Connect with Strava
Activico works with your Strava account so we'll get notified when you finish an activity.
Privacy By Design
No sharing features at all. No feeds, comments, or visibility persmissions.
Get Activico
Available now for iOS on the AppStore.